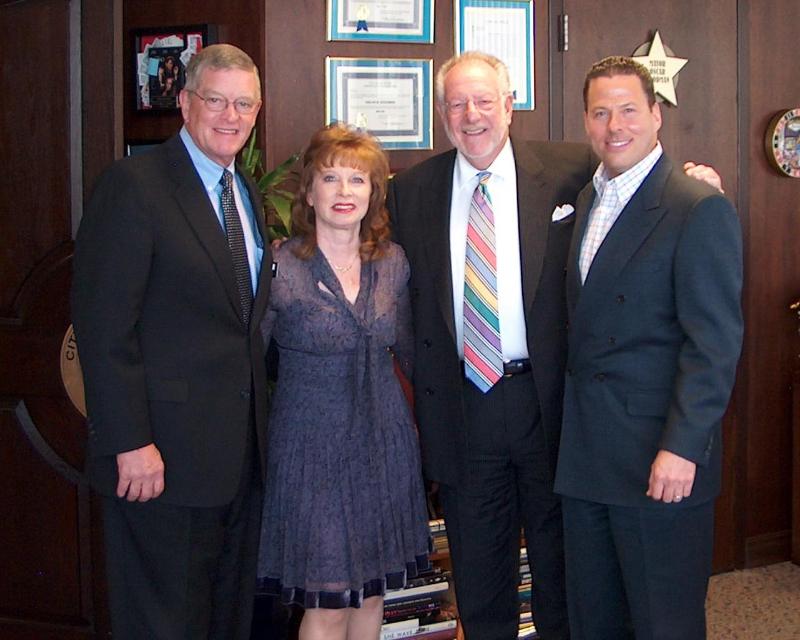 George Bruns - Former COO of Prudential Americana Group, Wendy Wiener, Las Vegas Mayor Oscar Goodman, & Mark Stark - CEO of Prudential Americana Group
Wendy's Biography
While I am originally from Liberty, New York, I have been a Las Vegas resident for over 36 years. At first, I was unsure of what profession I wanted to follow. After a few sessions of real estate school, I knew I had found my calling. Real estate requires all the traits in which I excel. My innate drive and persistence, as well as my people skills allow me to succeed in the fast-paced world of real estate. I have always recognized the importance of a good reputation, so I wanted to join an outstanding real estate company that matched my commitment to excellence. I joined Prudential Americana Group, Realtors® over 20 years ago, now Berkshire Hathaway HomeServices. In 1995, I was inducted in the Americana Group Better Homes and Gardens Sales Associate Hall of Fame. It is one of the highest forms of sales associate recognition a Realtor® can achieve. My other awards are numerous and I hold both CRS and GRI designations. In addition, I have been a member of the Las Vegas Multimillion Dollar Club every year since 1982. My team is my most valuable asset, allowing me to better meet my clients' requests.
At the beginning of my career, I made permanent contacts by visiting neighbors door to door. To demonstrate how determined I was, every Halloween I delivered hundreds of pumpkins to my neighbors - a continued tradition to this day. As a result, my neighborhood became a large referral source for me. People remembered my winning personality, my expertise, and of course, my pumpkins. Much of my success is a direct result of what I learned from distributing those first autumn squash. Through that experience, I was able to master the art of listening to the wants and needs of my clients. Consequently, my business is largely based on referrals. The most memorable moments of my career occur whenever I make clients' dreams come true.
I've come a long way since I passed out my first pumpkins, but I never forgot the importance of client-agent communication. My people skills, combined with my magnificent negotiating techniques, makes for a winning combination! I am a superb problem solver. I have the unique capability to turn a potentially stressful buying or selling experience into an enjoyable one. I believe that my responsibility continues long after the sale is completed. My diligent work and supportive team keep me in peak performance.
Thank you so much for your interest! I look forward to working with you in the future!
Sincerely,
Wendy Wiener